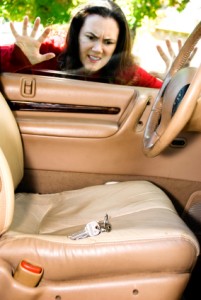 It only takes a minute. Sixty seconds of distraction – maybe the kids were fighting, or perhaps your mind was on the thirty-seven things you have to get done at work this morning – and it happens: the car door shuts – and your car keys are inside!
Sometimes it's not that simple.  Your car is locked – but you have no idea where your car keys are. Or the car is open, but the keys are missing. It's nice that you can open the door, but you're still not going anywhere.  People lose their car keys for any number of reasons: simple loss, theft, lost luggage or handbags, fires, or accidents.
Cambridge Locksmith Automotive Services
If you've locked your keys in the car, or you've lost your car keys and need replacement keys, you want to call your Cambridge locksmith.  Choose the best Cambridge locksmith: one who is AAA certified to provide replacement keys for the most makes and models of cars.  That would be Kenny's Lock.
You don't need to be embarrassed or ashamed to call a locksmith.  Forgetting that the keys are in the car or even losing them entirely doesn't make you a bad person! It happens, far more often than you might think.  We all live incredibly busy lives, and it's only natural to forget things.
People will tell you that having replacement keys made is expensive and difficult, but that's not true. Your Cambridge locksmith has the skills needed to craft all kinds of replacement keys – even keys that have transponder chips inside. Transponder chips are standard on most newer cars, but not every locksmith has the skills needed to replace them.  You want to work with a pro that does!
If you've locked your keys in the car, don't despair! Your Cambridge locksmith can help.  Getting your keys back (and your wheels) gives you more than peace of  mind.  You get your freedom back!