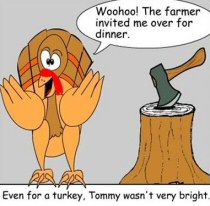 Happy Holidays! Tomorrow's the big day, and we'd like to take  this opportunity to wish each and everyone of you a Happy Thanksgiving.  This is the time of year when we reflect upon what we're grateful for.  Here at Kenny's Lock, we're grateful to you, our friends and customers. Thank you for your support!
Holiday Home Security
A great Thanksgiving holiday means gathering with family and friends. The Thanksgiving table is piled high with all of the favorite foods. Afterwards, there's football and Black Shopping Friday.  It sounds like a lot of fun – and it is!
This time of year can also be a lot of fun for criminals, who often view holiday season as 'easy pickings'. Breaking into a home gives a crook easy access to all of your possessions – not to mention the stacks of gifts you've been carefully hiding away.  The kids might not find them…but a determined crook would! Give yourself the gift of home security.  Home security systems provide that extra level of monitoring and support that it takes to keep your family safe in this world.
What to do when you lock your keys in the car!
Thanksgiving marks the beginning of busy season: that time of year when we're always on the go. There are holiday parties, gift shopping, picking up all the provisions for special meals, trips to the Post Office to send parcels to loved ones…on top of our regularly packed schedule of work and family responsibilities! When we're busy, we forget things — like taking the keys out of the car BEFORE we lock the doors.
If you've locked your keys in the car, call us.  Kenny's Lock is the only AAA Authorized locksmith on the South Shore with the skill and the latest technology to duplicate and generate keys to the majority of cars on the road today.