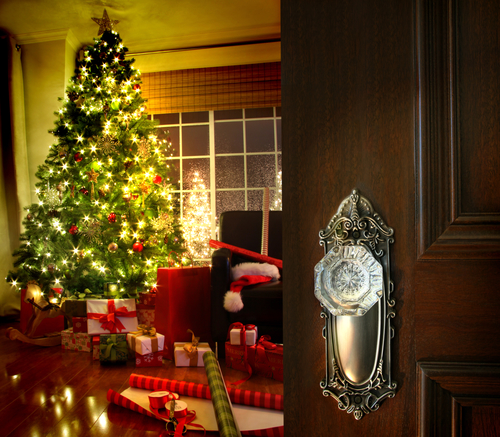 The holiday season brings all of our favorite things with it: great food, time with family and friends and often times travelling. But, while the rest of us may be off getting into the holiday spirit, predators see this time of year as the perfect opportunity to get themselves on the naughty list.
With so much distracting us it's not uncommon to overlook basic security measures in the process. Here are some useful tips to keep your home and your family safe this holiday season.
Secure your home while on vacation
If you're planning to leave town it is imperative that you take proper precautions to make sure your home will be well protected. Before you leave the house, don't forget the basic areas provide easy entry into your home for unwanted visitors.
Lock all doors including garage doors
Lock and secure all windows, including upstairs
Lock side gates
Close and lock dog doors
Security Systems and Outdoor Lighting
Something as simple as motion sensor lights can be enough to keep burglars off your property and the best thing is that they're not expensive to install. Placing motion sensor lights around the perimeter of your home, especially nearest to doors and windows, will literally shine a spotlight on anyone getting too close for comfort.Also, if you've already got a home security system installed, double check that everything is working properly. Hopefully the system has never had a reason to sounds off, but, if you've never heard it in action that also means it may have experienced a glitch or two over the years and therefore may not be working quite right.
Don't make yourself an easy target
Some homes just look more enticing than others so do your best to be sure you're not the most attractive target on the block. These tips are good for securing your home year round and especially during the holiday rush.
Keep high value items out of sight
Trim shrubbery around windows
Provide ample exterior lighting
Invest in good exterior doors and locks
Hide holiday gifts from plain view
Close curtains and blinds before leaving the house
Secure apartments too
Sometimes we feel like living in a multi-dwelling building we're safer than people in single family homes. Not so. As a matter of fact, people living in apartments experience more foot traffic around their homes and have less control over security precautions taken for the entire building. But, just because you're not the home owner doesn't mean you can't secure your Boston apartment.
Check your doors and windows and if something seems off, contact your property manager and put in a work order before the holiday season is in full swing. Also, unless you seriously trust your neighbors, don't mention to anyone that you'll be leaving town for a few days. Living in close quarters can make it more convenient for people with bad intentions to take advantage of your absence.
What safety tips do you use to keep your home secure around the holidays?