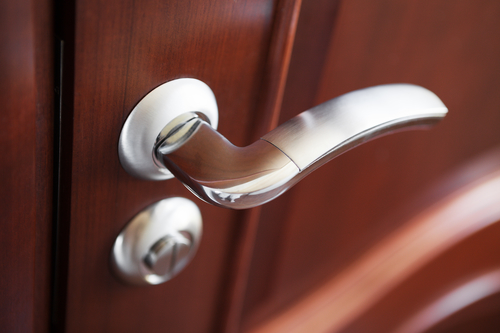 Our homes' doors and locks need to serve two purposes: provide safety and add to our home aesthetically. Commercial buildings have it a bit easier, mostly focusing on the practical issues when purchasing door locks, but when it comes to our homes, they not only need to keep intruders out but must also be appealing to the eye. Here are a few options to consider when choosing your new decorative residential locks.
Keyed Handle Set
Handle sets add a regal look to your entry way. With a handle, thumb operated latch, and matching deadbolt, this particular variety of decorative locking system not only looks polished but also offers a single or double cylinder deadbolt option to up your home's security. Many manufacturers offer "dummy" sets for French doors to ensure both sides are perfectly matched.
Electronic Door Locks
An electronic lock or smartphone operated lock adds a greater level of security, convenience and value to your home. Many different manufacturers have a variety of faceplates to choose from to match the style of your home. This way you won't have to worry about being stuck with a futuristic looking faceplate if you live in a traditional house.
Passage Door Lock
This type of lockset is best used for interior doors, or doors leading into a secure area such as your backyard or patio, as they only lock from a single side or not at all. They look like standard door knobs but come in many different finishes, making them virtually customizable to any design scheme.
Using this lockset on non-main entry doors (think back, side and patio doors) provides an added security benefit. Since they require a key to unlock, there's no chance of an intruder breaking a window, reaching in and simply turning the locking mechanism to gain entry.
Additional Security Hardware
If you've found the perfect lockset to compliment your design preferences but feel like you need additional security measures, consider having a professional locksmith install extra hardware, such as:
• Night latch – secures the door from the inside only
• Door viewer – a standard peephole
• Door jam security hardware – designed to strengthen vulnerable areas of the door jam to help withstand applied force such as kicking
There are different grades of locking mechanisms for all the doors in your home. Once you've chosen the perfect look, check with your local Boston area locksmith about your options to feel more secure in your home.