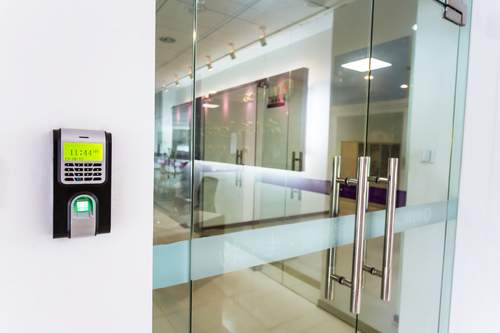 Deciding how best to arm your business from unwanted intruders or visitors may induce a bit of head scratching over which security option would be the best fit. One of the more popular and effective varieties is the access control system.
What is an Access Control System?
Access control systems require credentials in order to open your doors. Whether in the form of keyed in passwords, key fobs, biometric scans or physical or electronic keys, these intelligent access systems ensure that only the people you want moving through your doors are able to.
Types of Access Control Systems
There are many different options when shopping for an access control system for your business. Which you choose, however, is dependent on your specific needs. Options include:
•Keypad access
•Card readers
•Wireless access
•Free-exit systems
•Buzz in system
•Hardware options
Key Considerations Before Install
Before purchasing an access control system, take time to evaluate what it is you truly need. You don't want to make the mistake of over-buying and spending unnecessarily on a fully loaded security system if it's not necessary.
Level of Control
Access control systems can provide a high level of management throughout your entire facility such as:
•Logging and time stamping employee IDs at time of access
•Restricting access to off-limits areas
•Creating time frames when access is allowed
•Automatic "open" times where doors are unlocked for free access
Installation Type
Some business owners with minimal security needs can get away with less complicated systems, like smartphone operated systems, which can be installed easily without professional assistance. But, most small businesses will find that a more intelligent security option is the better choice which would require a professional installation. There is still a fair amount of preparation required on the part of the business owner, but the assurance you'll get that your systems are installed correctly is absolutely worth it.
Security Needs
We mentioned before that you need to understand what your building actually needs in the way of security before choosing an access control system. Consider not only what you need right now but also what you may require down the road. You'll want to choose a system that is easy to modify or add to if you foresee a future need.
Make a list or diagram of all the entry ways and exits, a list of all employees and vendors who require access, hours of operation and blackout hours, times in which free access is required, etc. A professional is your best resource here as well. Having installed countless systems, they'll be able to point out items you may not have considered on your own.
The benefits you receive from an access control system cannot be replicated from a simple keyed system alone. With varying options to select from and price ranges to fit nearly every budget, it's worth looking into if you're mulling over upgrading your building security.