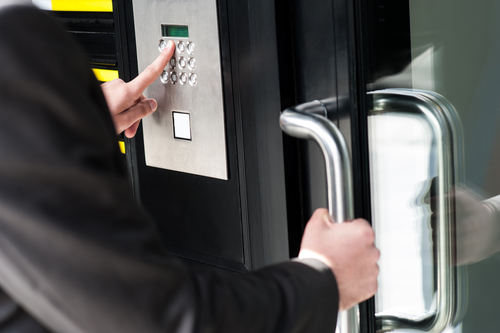 Need complete and total control over access in your building? Electronic access control is your answer. Essentially, electronic access control allows you to map out in great detail who may access parts of your building and when. These systems also provide a log of which doors were accessed, by whom, and at what time.
Do you need Electronic Access Control?
Realistically, not all buildings will require this complex feature. But, on the flip side, if you have sensitive or dangerous materials on site this could be the perfect solution for you. Facilities which hold medications, sensitive documents, or high value items may need to think about implementing an electronic access control system. Other industries that would benefit from a smart system would be day cares, data centers, governmental entities, and financial institutions.
Drawbacks of Traditional Key Systems
Before going over the benefits of electronic access control, it's important to understand the limitations of traditional key systems. While you might think that your regular lock and key is enough, here are some drawbacks:
Keys are easily duplicated or lost
No way to log foot traffic
Unable to adjust permissible access periods
Standard locks have long been simple to pick
Benefits of Electronic Access Control
In contrast to traditional key systems, electronic access control offers technological advantages that a lock and key can't match. The key highlights for electronic access control systems are many. Electronic access control, on the other hand, offers polar opposite benefits:
Easily track the comings and goings of people in your building

Effortlessly deny or reassign access when employees leave the company
Monitor and set specific times in which areas of your building may be accessed and by whom
Create and manage a holiday schedule
Not easily penetrated because there's no lock to pick
Large variety of different systems to choose from
Electronic access control systems are very versatile and you don't need to be in a massive building to warrant installation. They're also easily scalable meaning that if, down the road, you decide that there are a few more doors you think should be added to the system that should be no problem at all.
Things to Consider Before Installation
Before you run out and purchase one of these systems, there are a few things you'll need to layout.
Determine what you will use for people to identify themselves when entering. The options include stand-alone lock with key pad, proximity reader, and key pads.
Define how people will exit each area. Options include push-to-exit button, push bars, emergency releases and motion censors.
Choose your locking device. Options include electric strike locks, electric deadbolts, electrified locksets, and electromagnetic lock.
Research the software you'll use. The system you implement should reduce complexity for your administrators, not add to it. Choose a software package that has an intuitive user interface and is easy to understand. Also a biggie, make sure it's compatible with your organizations primary operating systems.
There may be a few steps to deciding on an electronic access system and implementing one, but if you've got concerns over how easily accessible your building is, contact us to see if an electronic access system is right for your Boston business.