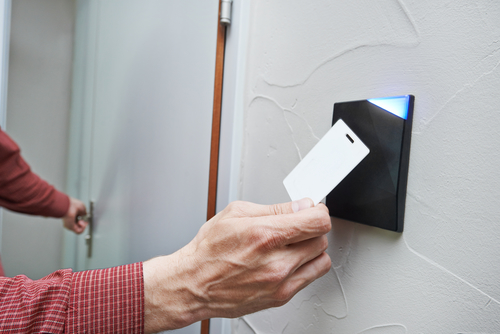 Making the upgrade from the traditional lock and key system to a more secure access code system is a smart move for the majority of business owners.
There are a many types of commercial locks but these intelligently controlled devices, operated by swiping a card or entering a code, provide you with increased control to building access. Once you've selected the system you'd like to install, there are still steps to be taken on your end to ensure everything goes smoothly on installation day. Add these items to your day of checklist.
List Employees
Have a list of all employees you're giving access to and exactly which areas they'll be permitted to enter. Do your best to include every single person who needs right of entry to the building because once the installer finishes the job, you'll be assessed additional service fees for them to make any adjustments down the road.
Break this list down even further into specific groups. For example, if you have an early and a late crew you should advise the installer so that they can grant them appropriate access during those hours. Do this with the various areas of the building as well. It's not uncommon for access code locks to be installed on more than just the exterior doors on a given building. If you have locations in your business, like a finance wing where you keep petty cash or a stocking room containing expensive product, you may consider limiting access to only those who absolutely need to be there. Have this information ready when the installer shows up.
Inspect Doors
Sure, having an access code system is more secure than a traditional lock and key, but it won't do you any good if the doors themselves are in bad shape. Carefully go through your building and check that each door is working properly. This means that door closers are allowing the door to fully shut, door jams are cleared of any debris and that the doors are latching properly.
Ask for Input
The entire point of installing an access code system is to increase security, but you don't want the extra precautions to cause an inconvenience to your employees. Make sure you speak to them about their particular needs when coming to and from work. For instance, you may have an employee who comes in at 7 a.m. when the rest of their team gets there at 8 a.m. It would be a huge pain if they were not able to continue putting in longer hours because their groups access keys didn't work until a later time. It's these seemingly small details that will make a big difference on your installation day and in how happy you and your employees are with the new system.
If you're looking for a reliable locksmith in the Boston area, contact Kenny's Lock.