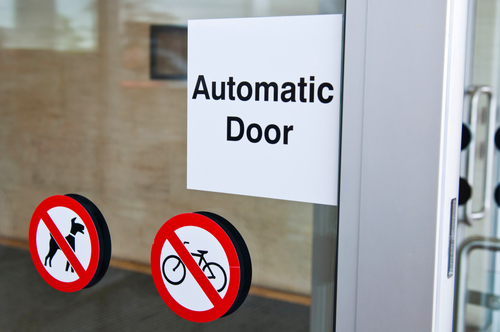 One of the main responsibilities of a business owner is to routinely inspect their building for maintenance needs. Ensuring light bulbs aren't burnt out and bathrooms are operating correctly are basic checklist items, but door maintenance is often left off the list. We figure that if you can get in and out of the building with ease, everything must be running smoothly, right?
This is not always the case, especially with automatic doors.Consider the possible ramifications of a malfunctioning automatic door at your commercial business. Perhaps it doesn't allow people to easily exit creating a fire hazard or motion sensors go out causing you to become ADA non-compliant?
We've put together some basic checklist items and a suggested maintenance schedule to help you keep your automatic doors in tip top shape, avoiding any large expenses or potential issues down the road.
Automatic Door Maintenance Checklist
There are several checkpoints that don't immediately come to mind when inspecting your automatic doors. Here's a comprehensive list to get you on the right track:
Are door sensors operating at the proper range? If they're activating too late you run the risk of individuals becoming injured, especially by a swinging door.
Check for obstructions on either side of the door—keep doors free of snow and ice in the winter
Pay attention to possible tripping hazards ex: lifted door insulation strips
Inspect door panels for cracked or broken glass
Ensure all doors operated by the buildings fire system are functioning properly
Assess functionality of all automatic door openers
If you find that any of these items are malfunctioning or creating a potential hazard, either shutoff the equipment or direct traffic through an alternate entrance.
Automatic Door Maintenance Schedule
A business owner or store manager should check these items on a weekly basis. Keeping a log, recording issues or concerns, will help you to not only keep up with your maintenance schedule but will also help gauge how often the same problem is occurring. If you realize that you're routinely finding, for example, cracks in glass or that your sensors malfunction on a regular basis you'll be able to come up with more lasting solutions. It's quite possible that it's not the quality of the door but that you've chosen an automatic door option that isn't best for the door's location and requires a different type of automatic door.
Every six months, have a certified professional check your automatic doors. You may want to have someone come in more often if your doors get snow and ice build up in the winter. While anyone will be able to do a spot check for obvious issues, a professional will be able to inspect your doors with an experienced eye and may find less obvious problems that could potentially become catastrophic. If you'd like more information on automatic doors for your Boston business, contact Kenny's Lock for more information.