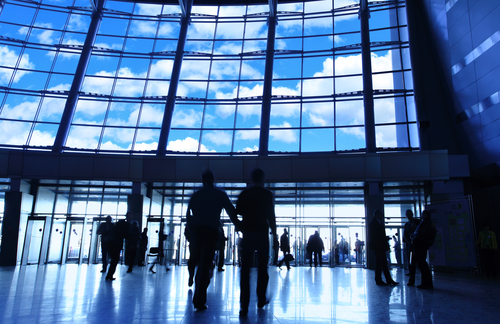 Generally speaking, automatic doors are the main preference of consumers. If you own a business with a decent amount of foot traffic, it's a safe bet to invest in an automatic door system for the primary entry points. Here are some options to consider when choosing your automatic door system.
Automatic Sliding Doors
One of the more common types of automatic doors is the sliding option. These are best for two-way traffic where there's no clearly defined exit or entrance designation. Options are either single sliders, bi-sliders or telescopic sliding doors which is basically a multi-leaf system where one panel slides on top of the next until the passage is completely open.
Automatic Swinging Doors
Used for directional or one way traffic, swinging doors can be single or double doors and may swing in or out. This is not the best option if you have limited space as you need to account for room for the doors when they're fully open.
Automatic Folding Doors
If you need an option that takes up as little space as possible, folding doors are the best option for you. Either single or bi-folding, folding doors open and close with the motion of an accordion. These are also beneficial if you need to be cautious of what's on either side of the door. Physician offices, hospitals and warehouses will generally choose this option.
Automatic Revolving Doors
Living in a cold climate like Boston, revolving doors can be huge energy savers. Since entrances are never fully open at any given time, a revolving door helps to save precious heat from escaping the building. They also allow large numbers of people to exit and enter simultaneously. The automatic variety can come in two wings, three wings, and four wings that are generally made of glass.
Additional Attributes of Automatic Doors
Automatic doors come with varying degrees of customization. For instance, the force with which the door opens and closes is adjustable. If you'd like a nice slow moving door or would rather have it move as quickly as safety permits, it's up to you.
Keep in mind that regardless of the type of automatic door you purchase, it is necessary to have it equipped with handicap access. You'll also want to be sure that all ADA requirements are met such as the ability to manually force the door to open and that you're able to sync it with your commercial door security system.
Like any door, proper maintenance of commercial doors is necessary to keep them in good shape and to protect your investment. Be sure to comply with the manufacturer's guidelines to keep your automatic door systems running smoothly. Have questions about repairing or installing commercial doors for your Boston business? Contact Kenny's Lock today!