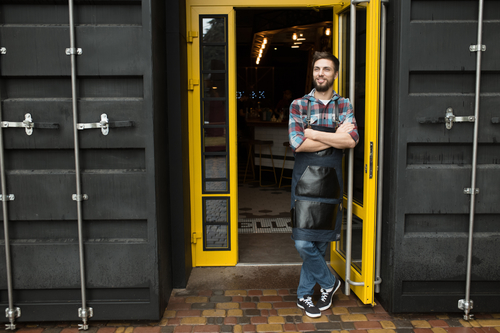 Keeping your doors and locks in tip top shape means performing regular maintenance on them. Since a door is probably the one thing in every building that is used multiple times per day, they're bound to need a little maintenance.
Commercial doors can come with a hefty price tag and so you want to keep them maintained. Just like your vehicle, if you neglect all the moving pieces they're bound to bust. So, how do you take care of a door?
How to Maintain Commercial Locks
Keep it lubricated
Just like the Tin Man, your doors need to be lubed up every now and then to keep components moving smoothly and to prevent damage. WD-40 is one tried and true method of lubrication, but it's generally used for parts that are already grimy. Using a Teflon based lubricant on a regular basis will help keep your door swinging freely minus any friction. Try to create a regular cadence for this task. You don't want to wait until the hinges on your doors are so dry that they could need premature replacement.
Clean the Strike
Have a door that doesn't quite close all the way? You could be looking at a dirty strike. Many times debris like trash or dirt can get in there and clog it up preventing the strike from working properly. Leaving your strike in this condition for extended periods of time may cause damage due to the increased resistance from the door to latch and, not to mention, compromising your security. Read more about electric strike locks for your business in this post.
Spot Check
You should be doing spot checks on all the doors on a regular basis. This means looking for loose screws or improperly functioning components. As an example, a door closer on commercial doors is one element that needs to be routinely checked. It has to be functioning just right to keep your building safe. If it's closing too slowly you give people time to sneak in behind employees…too fast and you could be damaging the door with repeated slamming. Repairing commercial doors can be a pain so this should be on your priority list.
Appropriate Hardware
While we hope that you took this into consideration when initially choosing your doors and hardware https://kennyslock.com/types-of- commercial-locks , it's not unheard of to realize your first choice wasn't the best choice. If you notice that the doors seeing the most traffic in your home or building seem to be degrading at a quicker rate than you'd like, it's likely you'll need to invest in some higher grade hardware. If you recognize the need to upgrade you'll likely need to utilize a rekeying or lock changing service especially if you've incorporated a master key system into your commercial space.
Due diligence pays off when it comes to regular door and lock maintenance. Set up reminders on your calendar to check them to avoid larger, more costly issues in the future. Need help with your commercial locks? Contact Kenny's Lock and we'll be happy to help!