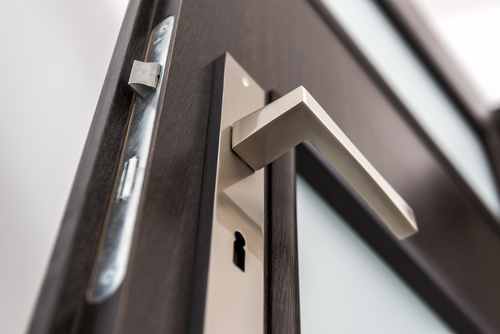 The electric strike lock may not be a colorful component in a locking system, but it is one of the most important. This type of lock is not only cost-effective, but also a better alternative than electrified lock mechanisms in some circumstances.
Reasons for an Electric Strike Lock
Electric strikes are devices installed on doors to allow entry via an access system or remote release system.
Unlike a magnetic lock, a strike does not secure a door; that's the responsibility of the door handle or lockset. The electric strike allows access to a secured door with a key card, pass, etc., without the need for a key to the lockset.
Types of Electric Strike Locks
There are two styles of electric strike lock:
Fail-Safe Locks
Fail-safe locks (also called fail-open) operate as a magnetic lock would. A direct electric current is applied to the strike, causing the door to lock. In a power failure, the door can be pushed or pulled open.
Fail-secure locks
Fail-secure locks (also called non-fail safe or fail-locked) open when an electric current is applied to them. In a power failure, this kind of lock will remain locked, although the mechanical can still be used to open the door from the inside.
An electric strike lock is useful on any door where high traffic occurs and requires monitoring or where items need to be secured and safeguarded. It also regulates employee access and helps prevent employee theft.
Choosing an Electric Strike Lock
Choosing the right kind of electric strike lock depends on the kind of door you have. The door material, and whether the door is internal or external, double or single, determines which electric strike lock is best. Strikes are available for nearly all door styles and of various material types, like aluminum and timber.
Security and Monitoring Requirements
The level of security desired will impact the type of strike that is best for your doors and circumstance.
For example, a low-security situation with no defined holding force may only require a low-cost electric strike. However, in a high-security environment, a strike with a maximum holding force of 1,500 pounds or more may be necessary.
Most electric strike manufacturers produce strikes with or without a monitoring facility. Door state monitoring should involve the use of a separate reed switch on the door or frame.
Type of Lockset
Your electric strike lock must be compatible with the type of lockset on your door. Use the lockset manufacturer's compatibility chart to determine if your electric strike works with the lockset in question.
Latch Bolt Dimensions
Similar to a lockset, your choice of electric strike lock will need to accommodate the type of lock bolt sizes. Make sure that the centerline location of the latch bolt is correctly positioned around the centerline of the lockset to ensure that the lock will work as desired.
Power Needs
Most electric strike locks are 24 VDC, although 12 and 24 VAC options are also available. Choosing AC or DC power is critical because each strike application is different. Consider regulated or filtered power sources where practical as these sources will extend life to the strike's operating capacity.
Code Compliance
Fail-secure electric strike locks must be used on fire-rated doors so that the door automatically goes into a locked position when the power is turned off. Because fail-safe locks go into an unlocked state when no power is applied, they do not meet code requirements for fire doors.
Consult a locksmith if you are uncertain about what kind of electric strike lock you need for your building or office.