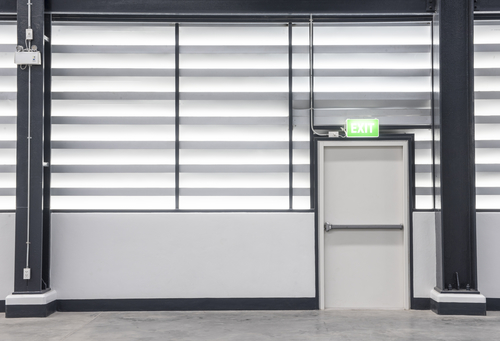 Every business, especially those that see a lot of foot traffic, need to have all exit doors outfitted with panic hardware.
If you own a restaurant, bar, theater, or any other venue holding large amounts of people at once, choosing the proper panic hardware to provide optimal exiting functions is incredibly important.
What is Panic Hardware?
Panic hardware, also known as crash bars or panic bars, is meant to quickly and easily unlock doors in emergency situations. The spring-loaded metal bar is placed horizontally across the door from the inside to an out swinging door.
Panic Hardware vs Fire Door Hardware
While the door operating mechanisms look similar, there is a different between a door outfitted with panic hardware and one which has fire exit hardware. Building codes will help you determine which you require. Often times, business owners will use these mechanisms interchangeably, which is why it's important to address here.
Panic hardware is to be used on doors which require panic hardware but cannot be used as a fire door. This type of hardware generally has a dogging feature allowing the latches to be retracted creating a push/pull function.
Fire door hardware must be tested for both panic features and suitable for fire conditions. Fire door hardware does not utilize the dogging feature as they require positive-latching at all times. Again, check building codes before installing to save yourself from frustration down the road.
Types of Panic Hardware
There are three primary styles of panic hardware which you can choose based on aesthetic preference, door design and other determining factors.
Touchpad: The most common type of panic hardware, the touchpad version allows for a certain degree of flexibility if you need an electrified option. You can choose from an electrified lever trim, electric latch retraction or delayed egress.
Crossbar: This style is most often used when you have a glass door since it visually takes up the least amount of space. This version does, however, limit your electrified options. Since this is a slim style of panic hardware it doesn't have the internal space to house necessary mechanisms for certain electrified options.
Recessed: Recessed panic hardware reduces the projection of the hardware from the door itself but requires you to cut into the door which will likely limit the types of doors you'd be able to install.
Additional Options
Personalizing your panic hardware to your aesthetic and functional needs is simple since there are so many options available.
Trims and controls: Knob and thumbpiece options are available if you don't want a bar affixed to your doors. These are most appropriate for storerooms, classrooms and for electrified functions. Varying types of commercial doors and locks are compatible with panic hardware but not all will be a great fit. Be sure to consider all door mechanisms to be used before making your purchase.
Finishes: If looks are important to your business, you'll be pleasantly surprised to learn that panic hardware comes in a variety of finishes to match your interior décor. You can order in standard or custom colors.
Dogging: Dogging panic hardware makes for easier exiting and saves on wear and tear on hardware. If you choose to have your hardware dogged, be sure that there are no obstructions that will block the door from closing properly which could now leave you faced with security risks.
If you're interested in installing panic hardware at your Boston area business, contact Kenny's Lock today!