Updating your doorways' hardware should always be an item on your building maintenance checklist. After years of repeated use, the mechanisms are bound to need replacing at one point or another. If you've found yourself in this situation, consider adding exit devices to your entries if you haven't already. Modern hardware adds several safety and compliance benefits to your business but not all are best suited for every type of door. Here are some things to consider before committing to an exit device.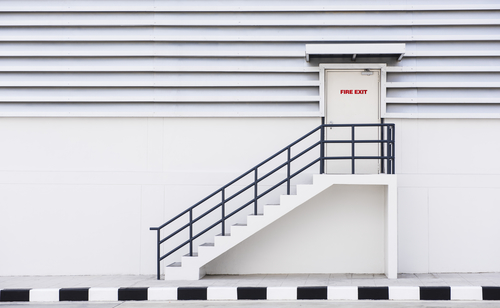 What type of door do you have?
The type of door you have will dictate the type of exit device you choose. Exit devices can be fitted to single or double door openings. If you have a double door, you're able to fit a mullion (a vertical bar separating the doorway down the center between the two doors) to provide latching points for each door. Decide if you mind having the doorway cut in half by this bar. If you want a completely unobstructed doorway when both doors are opened, you're able to secure both doors without a mullion by using a vertical rod exit device paired with a mortise exit device.
The materials your existing doors are made of will also play a part when selecting your exit devices. Wood, hollow metal and aluminum are usually compatible with all types of exit devices. If you have an aluminum glass door with a narrow stile you'll need to consult a locksmith to be sure you've chosen the right variety of exit device.
Do you need fire rated devices?
Exit devices are separated into two categories: fire rated and non-fire rated. If you're looking for a more cost-effective option, the non-fire rated devices are a good fit. Keep in mind you can only have a fire rated exit device installed if you have a fire rated door. These particular exit devices are manufactured to suit the requirements of fire rated entries. Also, if you're planning to have electrified dogging you must wire everything through your building's alarm system that would release the dogging in case of a fire.
Fire rated exit devices are much more secure and provide an added level of protection in case of an emergency. But, if you don't already have fire rated doors and are not planning to replace existing doors, the non-fire rated devices will get the job done nicely.
Will operational noise be an issue?
If your facility requires a certain level of noise control, you won't want to purchase a motor operated exit device. Places like dorms, hospitals, doctors offices and educational facilities may find that a motorized mechanism would be too distracting.
Where is the door located?
If your outfitting a doorway that opens to the exterior of the building be sure to purchase an exit device that is weather proof. In cases of extreme weather, mechanisms within an exit device may malfunction. Owning a business in the Boston area, this should be the top priority when making your decision.
There are many variables to consider before purchasing your exit devices and a professional locksmith should always be consulted to ensure you're making the right choices from the start.