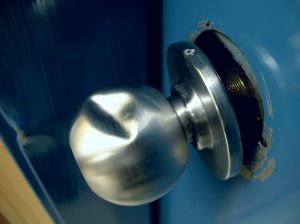 It doesn't take much to totally destroy your peace of mind.  Look at the doorknob in the picture.  It's nothing remarkable – you probably see doorknobs exactly like this one dozens of times in the course of your day.
Perhaps you never notice the doorknob until it's become clear that someone has messed with it.  Having someone break into your home is a terrifying and unsettling experience.
Often the first response Quincy homeowners have after a break-in is to rush out and sign up for the very first home security service they see.  That's understandable, but for the ultimate in peace of mind and home security, you'll want to be more selective.
Quincy Home Security Systems
When you're shopping for home security systems, keep the following points in mind:
System Quality: Your home is your largest investment, and of course the health and safety of your family is priceless. That means you'll want to choose the highest quality home security system.  You want a system that is ideal for your home's unique configuration – talk to your Quincy locksmith about what your options are – and that is durable enough to deter even the most determined criminals.
Installation and Service: The effectiveness of your home security system is directly dependent upon the quality of the installation.  Your Quincy locksmith has a team of trained professionals who know the proper way to install your home security system.  This is a significant difference from discount security services or cable tv providers, who often sell security as an 'add on' service. Choose a company that has expertise in home security.
Ask about service and support for your new Quincy home security service.  The best Quincy locksmiths respond promptly to all service calls: you never have to worry about your home or family being vulnerable and unprotected. The peace of mind is totally worth it.