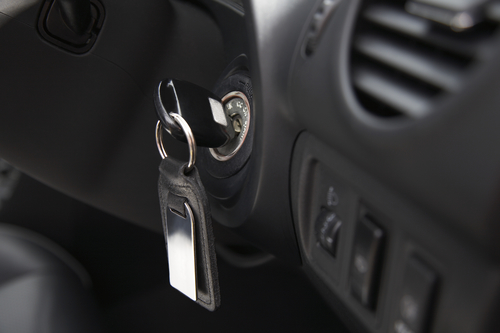 It happens to everyone at some point. You're in a rush or have your hands full while reaching for the car door only to realize you've locked yourself out of it. Add to the equation inclement weather and somewhere to be and you've gotten yourself in quite the pickle. Aside from breaking a window out of sheer frustration, there are other more practical ways of remedying this situation.
Find a Safe Location
First things first, find a safe area to wait it out. Try to find somewhere to wait indoors and in a public area to lower your risk of being burglarized or assaulted. This may seem a bit dark, but predators prey on those in despair and having nowhere to go, no way to leave the area, could prompt an attack. If you can't find a place to wait indoors, find a heavily populated area to wait in out.
Keep a Spare Key
If you've got a spare set of keys, it's helpful to keep them somewhere either you or someone close to you can get to them. You could keep a space set in a safe at home or if you've got a bag you never leave the house without, keep the spare safely in a zip compartment. If you have a trusted friend or family member, think about giving them a spare set to avoid having to pay a professional down the road for replacement.
Call a Trusted Locksmith
Professional locksmiths are skilled at all things pertaining to locking mechanisms. They're not just for buildings, either. If you're locked out of your car, a locksmith would be able to help yo in a number of ways. Often times they're able to make it out to you in a short period of time to pop that lock and get you on your way. This is helpful if you've simply locked the keys in the car, but if you've lost them completely you could be in need of another service entirely. Check out our post on 5 questions to ask a locksmith to learn how to find a trusted locksmith in Boston.
Key Replacement
If you've misplaced your keys all together you'll need to replace them. Traditional keys are simple enough for a professional locksmith, but you may be worried if you have a transponder key since those are definitely a bit more complicated to deal with than a traditional flat key. Locksmiths deal with all types of keying systems and transponder keys are no exception. Less expensive than going through a dealership, your local Boston locksmith can rekey a transponder device to get you up and running in no time.
At the end of the day the most important thing is to have a backup plan in case a situation like this should arise. Keep a spare set of keys and have make them available to a close confident and keep the number of a locksmith in your wallet.